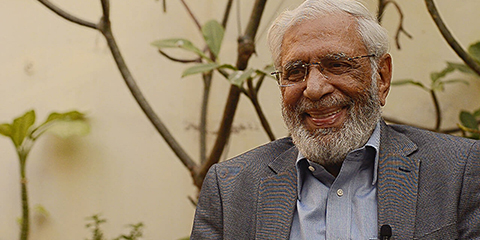 JournalismPakistan.com December 07, 2021


KARACHI - Throughout his life, Muhammad Ziauddin sahib [former Executive Editor Express Tribune] stood and fought for free media and the institution of the independent editor, Kamal Siddiqi, former editor of The Express Tribune, wrote in his column.
"Today, as we look at the state of the media in Pakistan, both freedom and independence are under threat," Siddiqi wrote in his column titled "Lessons from M Ziauddin" published in The Express Tribune. "...And those persons who led by example or showed us the way are gradually fading away."
Ziauddin served as the executive editor of The Express Tribune during his career.
According to Siddiqi, a journalist must work towards the ideals our leaders stood and fought for over several decades. "In this we have a lot to learn from personalities like Ziauddin sahib," he urged.
"It was a hard and difficult path he [M Ziauddin] chose, but at the end of the day, he will be remembered as one of Pakistan's most iconic journalists."
The first lesson, the writer mentioned, was a simple lifestyle, a hands-on approach and zero tolerance for compromise in his work. "He [M Ziauddin] would say that it is not difficult for journalists to lead a simple lifestyle—it is when they start having illusions of grandeur that things can get complicated."
"The second lesson was his hands-on approach," the writer highlighted. "This meant doing things yourself—writing your story, answering your e-mails, doing your own interviews and conducting your own research."
"This also translated into being conversant with technology and trends—in the case of Ziauddin sahib this meant, among other things, being on social media and using it professionally. He would never shy away from learning new things and pushing for change and new ideas. That made him very popular amongst his younger colleagues."
The third learning, as per the writer, was constantly being approachable. "Anyone and everyone was welcome to come in and talk to Ziauddin sahib. He would put aside what he was doing and listen patiently to what was being said."
The fourth learning would be to be professionally active, he emphasized. "A journalist, no matter what age or experience, has to network."
Ziauddin believed that a journalist must be seen at workshops, festivals, conferences, press conferences, get-togethers and even important and not-so-important political events. "Go out and meet people. Make contacts. Listen to them. One never knows where a journalist can get their next story," this is what he used to advise other fellows.
M Ziauddin believed that a journalist should visit press clubs, actively participate in press-related activities, try and work with press unions and counsel their representatives. "Many senior journalists seem to disengage themselves from such activities as they climb up the administrative ladder."
"Finally, Ziauddin sahib's biggest quality was that he was a journalist of calibre and integrity. Not only was he careful about stories done by his subordinates, he made sure his own work was also checked and vetted under the same standards. He put himself through the same accountability process around him."
"All these qualities made Ziauddin sahib a much-respected and much-loved member of the journalist community—a rare gem at a time when the profession faces innumerable challenges," Siddiqi concluded.