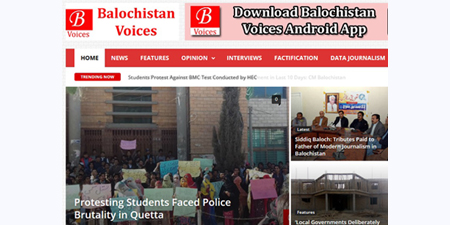 JournalismPakistan.com February 21, 2018


QUETTA - The second anniversary of BalochistanVoices.com, an online newspaper was celebrated on Tuesday in Quetta.
Balochistan Voices was established on February 20, 2016, to highlight the ignored issues of Balochistan which did not find a place in mainstream media.
Since its inception, Balochistan Voices has produced dozens of in-depth feature reports and published more than 1,500 articles. The paper also pioneered the use of data journalism in the province. It was the first news organization to start publishing data journalism stories about Balochistan.
Through its volunteer reporters based model, Balochistan Voices has managed to highlight news from the length and breadth of Pakistan's largest province.
Balochistan Voices also has a dedicated Android App and a YouTube channel which is used for broadcasting video reports.
Two years of the online newspaper were celebrated on social media using the hashtag #BalochistanVoices2Years.
The team of Balochistan Voices has vowed to improve its standard of reporting and area of coverage in its third year.