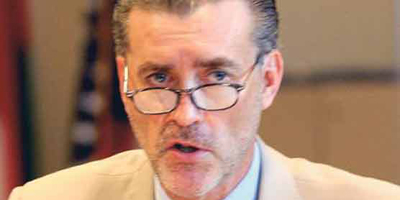 JournalismPakistan.com April 08, 2014
ISLAMABAD: The US ambassador to Islamabad Richard Olson has said Pakistan has a very free and vibrant media which is a recent trend and journalists are playing an important role in the society.
The diplomat made his remarks at a reception Monday, hosted by minister counsellor for public affairs of the U.S embassy, Peter Brennan in honor of visiting American journalists. During their stay here, the US journalists would visit the main cities to have firsthand knowledge about the people and the conditions. Many of them, seemed impressed by Islamabad's greenery and peaceful environs.
Olson said the journalists would have a chance, during their visit, to get an insight into this complex and exciting country.
He said the challenges faced by Pakistani journalists were huge as was indicated by a recent attack on the anchorperson of a private television channel Raza Rumi. They are facing threats from Tehreek-e-Taliban who have said they were committed to kill journalists.
However, Olson said that his government would support the "role of our brave Pakistani journalists in Pakistani society."
During the course of their interaction with their Pakistani colleagues, American journalists have had exchange of views on the just concluded Afghan general elections and prospects of peace in that country. - APP