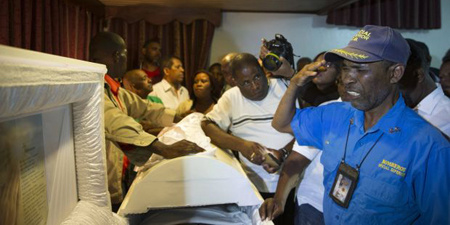 JournalismPakistan.com February 16, 2017


NEW YORK - Authorities in the Dominican Republic should establish a motive in the murder of radio journalists Luis Manuel Medina and Leónidas Martínez and prosecute all those responsible, the Committee to Protect Journalists said Wednesday.
The two radio journalists were shot and killed during a Facebook Live broadcast at the FM 103.5 radio station located in the southeastern city of San Pedro de Macorís in the Dominican Republic, according to press reports.
"Dominican law enforcement must act swiftly to bring the killers of journalists Luis Manuel Medina and Leónidas Martínez to justice," said Carlos Lauría, CPJ's senior program coordinator for the Americas. "The video appearing to show the journalists' final moments is a chilling reminder of the dangers that the press can face while reporting the news."
Medina, a presenter for the news program Milenio Caliente, was killed in the recording booth while filming a broadcast on Facebook Live. Before the video abruptly ends, gunshots can be heard along with a voice shouting, "Shots, shots, shots." A gunman also shot and killed Martínez, a director and producer at the radio station, and a secretary at the station, Dayana García, is in serious condition after being shot in the stomach, according to a United Press International report.
Medina reported on politics and social issues and had recently denounced pollution in Laguna Mallén, a protected lake in San Pedro de Macorís, according to a report in The Guardian. He was also the official announcer for the Estrellas Orientales baseball team, the report said.
A spokesperson for the police office in San Pedro de Macorís told CPJ that police could not release details about the investigation or a possible motive. At least 12 individuals have been interviewed, according to the spokesperson. Three men have been arrested in relation to the case but have not yet been charged, according to the BBC.
At least three journalists have been killed in direct retaliation for their work in the Dominican Republic since CPJ began recording statistics in 1992, according to CPJ research. - Committee to Protect Journalists/Image: http://www.irishtimes.com