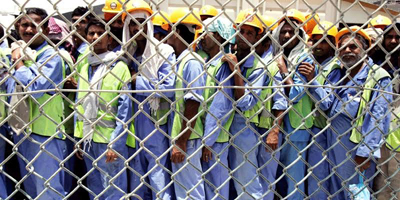 JournalismPakistan.com February 09, 2016


ISLAMABAD - Two Pakistani journalists Shahzada Irfan Ahmed and Sabrina Toppa have won media fellowships on "South Asian Initiative on Migrant Labor, 2016."

As fellows, both will get stipends for local research purposes, attend two training workshops on this topic in Kathmandu (Nepal), and travel to destination countries of Pakistani migrants labor (Saudi Arabia, UAE, Qatar, Kuwait, Malaysia etc) during the year to report on their issues.

Selected print, television, radio and web journalists from Bangladesh, Nepal, India and Sri Lanka have also been offered these fellowships. They will report on the issues of migrant labor from their respective countries.

The fellowships are being offered by Panos South Asia as part of a Swiss Development and Cooperation (SDC) project for encouraging dialogue and discussion on migrant labor issues among concerned stakeholders, including migrant laborers, trade unions, and governments of labor-sending and labor-receiving countries. The fellowship offer is unique in a sense that it helps fellows gain firsthand experience of the migrant labor situation in the countries where it is employed.

Shahzada Irfan works for The News on Sunday, The News, Lahore. He has various awards and fellowships under his belt. He was finalist at Developing Asia Journalism Awards (DAJA) 2008, in Tokyo (Japan), Daniel Pearl Fellow for the Year 2009 in US, fellow of Innovation in Journalism Program at Stanford University in 2009, declared "Labor Reporter of the Year" in 2015 by ILO Pakistan and offered media fellowship by the International Centre for Integrated Mountain Development (ICIMOD), Nepal, in 2015.

Sabrina Toppa is also a Lahore-based journalist whose work has appeared in TIME, NBC News, VICE and other outlets. In the past, she has worked in newsrooms in Hong Kong, Dhaka and Kathmandu. She was a 2013-2014 Zeff Fellow, examining migrant labor in the transport industry on-the-ground in the Middle East, Africa and Asia. From Qatar to Ethiopia, Myanmar to Kenya, Indonesia to Lebanon, she has extensive experience reporting overseas on the topics of human rights, social justice and migration, and is looking forward to highlighting the flow of human capital from Pakistan to other parts of the world.