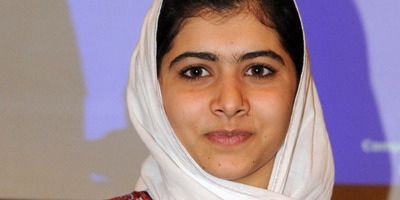 JournalismPakistan.com December 31, 2012 Stephen Manuel

SAN FRANCISCO, CA: The cowardly shooting of schoolgirl blogger Malala Yousafzai by Taliban hitmen on October 10 shocked the nation and then the rest of the world as the news spread. Unlike similar incidents, this shooting somehow managed to bring out the best and then the worst in the Pakistan media.
For some time at least the media, both electronic and print, did a good job in bringing out fresh information, providing background details leading upto the incident and then covering related developments such as her hospital care, reaction to that attack, condition of schools in the Swat Valley, international feedback, impact of such incidents on young people, the government's role in getting her treated and even the fierce public support for her that continued to grow with each passing hour.

For a while Malala was the fuel that not only ignited but ran newsrooms the country over. Everybody wanted to do a Malala story and some actually managed to exceed expectations. There were well defined, touching and professional reports, written, complied and produced, that certainly demonstarted that when pushed to it, Pakistani journalists could rise above themselves. The Malala factor seemed to bring out the best in everybody.

For a while there it also seemed that the popular support and the media's proactive and positive coverage of Malala's recovery from the despicable attempt on her life might actually play a role in opening up the increasingly suffocating and intolerant ideological bent that has made it one of the most dangerous countries in the world. It also gave an astonishing glimpse of what Pakistan's media could do.

Malala was championed as a game changer as candelight vigils were organized for her recovery and politicians literally tripped over each other in their bid to ensure that their two-minute soundbyte would not be discarded for one that was better. The media latched on to any and every opportunity it could to project the incident in such a way that could shake the nation out of the despair and despondency brought on by rising costs of every day food items, protracted power outages, gas and food shortages, natural disasters, corrupt politicians.

Even the usually vociferous, preaching talk show hosts decided that the Malala story was bigger than them and played it up. They even went so far as to suggest that the army was doing the right thing in Swat Valley by taking on the school-destroying, head dismembering Taliban. They dared to agree that there was no such thing as 'good taliban' or 'bad taliban' as one mindless and delusioned poilitician had brazenly opined, but rather the only kind of Taliban acceptable was the dead type.

Meanwhile respected international media organizations like CNN, BBC, CBS, The New York Times, The Tribune and even Newsweek and Times did prominent stories on the girl that had defied the Taliban and had been shot because of it . There was even talk that she could give Obama a ride for his money come time for newspapers and publications to name their 'Person of the year'.

Pakistan's media echoed them and proudly declared each development in much the same way as they would a a 10-wicket or innings victory over India. Certainly the media at home created enough buzz for her to be considered a nominee for the year's Nobel peace prize.

But even as President Asif Ali Zardarai and the prime minister visited Malala in hospital in the UK, where surgery was performed on her, the local social media was already making deep inroads into all the good work done, proclaiming the whole incident was not only being perceived wrongly but 'misrepresented'. It seems 'educated Taliban' had finally found their pens and laptops and got right down to work. Malala was no innocent school girl, they said.

It soon emegerged, according to them, that Malala was an "American Spy" and had met with Special US Envoy to Afghanistan and Pakistan, Richard Holbrooke, that her father was being paid by the US government, that every statement Malala had uttered had been authored by the US. It was said that her blog for BBC was by name only and that all its content was done by "vested Western" interests.

Other more preposterous and unbelievable conspiracy theories began to make their way off the Net and Facebook to the electronic and print media. It started with a few Urdu language rags printing stuff they hoped would pump up their circulation and then slowly carromed its way into the mainstream media, including English language newspapers and popular news channels.
Suddenly, Malala became a dirty word and then nothing at all. The media went back to its mundane and detached reporting on political happenings and other non events.
But for all it's worth, warranted or not, it was the one time in the year that Pakistan's media actually pulled their collective thumbs out and did their job... the way it's supposed to be done.