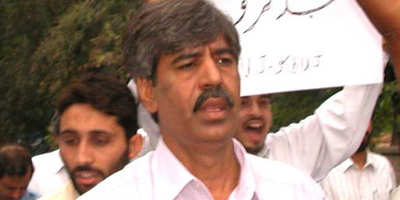 JournalismPakistan.com January 05, 2013
ISLAMABAD: C. R. Shamsi, a senior journalist and union leader has boycotted the Federal Executive Council (FEC) meeting of the Pakistan Federal Union of Journalists (PFUJ) being held in Karachi Saturday citing several reasons.
A member of the FEC, Shamsi conveyed his decision to the PFUJ secretary general through a letter that he also posted on Facebook. The following are extracts from his letter:
It had been decided in the first meeting of FEC held last year that the next meeting would be held in Quetta. For the fourth time that the decision to hold this session in Quetta was not honored.
There has been no consultation with the FEC over the change of the venue of its meetings. Traditionally, in any such situation the secretary general holds consultations with all members of FEC. By not holding the meeting in Quetta, we are conveying a message to our crisis-ridden colleagues in Balochistan that we are least concerned about their sufferings.
An FEC session was held in Murree last year where no unit PFUJ unit exists. According to the constitution no FEC meeting can take place in any city or town where there is no PFUJ unit. Therefore this session in Murree was nothing but a leisure trip for the union leaders.
Although it had been decided that the main office-bearers of PFUJ would stay away from the elections of subordinate bodies - Unions of Journalists and Press clubs; nevertheless President Pervez Shaukat was actively involved in the annual elections of National Press Club Islamabad as well as in the elections of Rawalpindi Islamabad Union of Journalists. He has therefore, promoted division and friction within the organization.
The present PFUJ office-bearers have failed to solve any of the major problems faced by our community especially non-implementation of the wage award, unlawful removal of journalists by media organizations and not doing anything to abolish the contractual employment system in all media houses.
This non-serious attitude of our present office-bearers led to the dismemberment of APNEC and no attention was paid to my appeals and demands to address this issue and restore unity of this key organization.
Similarly, no attention was focused to strengthen the organizational structure of PFUJ and elections of the unit chiefs were totally ignored.
Due to personal disliking on the part of the president and his mates, I was always discouraged to voice my concern on these pressing issues in FEC meeting during the last two years.
Despite this undemocratic attitude of the president and his followers, you did not take any action which was binding on you as the secretary general of this esteemed body.
In the light of these facts I believe this session of FEC is unconstitutional and will only be an exercise in futility. Therefore, I announce my boycott of this event.