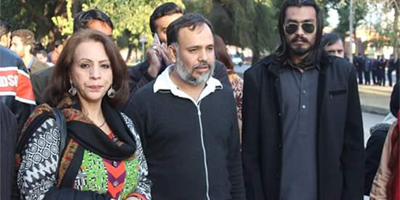 JournalismPakistan.com May 08, 2016


KARACHI - Gunmen shot dead a prominent Pakistani rights activist and journalist, known for his outspoken stance against the Taliban and other radical Islamist groups, in Karachi late on Saturday night, police said.
The police said Khurram Zaki (pictured, center) was killed at an outdoor cafe in central Karachi, while a companion was wounded. A faction of the Pakistani Taliban, the Hakeemullah group, claimed responsibility for the attack in a phone call to Reuters, saying Zaki had been targeted for his stance against radical cleric Abdul Aziz.
The police could not verify the Hakeemullah faction's claim, and said the group has previously taken responsibility for attacks it did not carry out in Karachi.
"Zaki was sitting at a cafe where he was targeted by four armed men arriving on two motorcycles," Muqadas Haider, a senior police official said on Sunday.
Zaki was known for his outspoken stance against the Lashkar-e-Jhangvi, a Sunni Muslim sectarian militant group, the Pakistani Taliban, and radical cleric Abdul Aziz.
In December 2015, Zaki led street protests against Aziz, demanding the cleric be arrested and charged with hate speech for allegedly justifying attacks, such as the Peshawar school massacre where 134 schoolchildren were killed in 2014.
In 2007, Aziz and his followers were engaged in an armed standoff with government forces at his mosque in Islamabad, culminating in a eight-day military operation that saw Pakistani commandoes raid the mosque.
Aziz has since been exonerated of all criminal charges by Pakistani courts, but still calls for the overthrow of the government and for a strict version of Islamic sharia law to be imposed.
Zaki had confided to friends that he was on several militant "hitlists", Jibran Nasir, a fellow activist who was also involved in protests against Aziz, told Reuters on Sunday.
Nasir said that Zaki did not specify which groups specifically had threatened him.
According to a statement released after Zaki's death by a website he helped run, the activist had been "a target of a systematic hate campaign" by an Islamist political leader and Lashkar-e-Jhangvi.
Targeted killings are common in Karachi, although violence has declined significantly since the launch of a paramilitary operation in the city almost three years ago.
Rights activists are increasingly among those targeted in Karachi. In April last year, prominent activist Sabeen Mahmud was shot and killed while traveling in her car.
Zaki was a former head of Current Affairs at NewsOne Television and was looking after Infotainment and Religious Programming, according to his Twitter profile . - Reuters