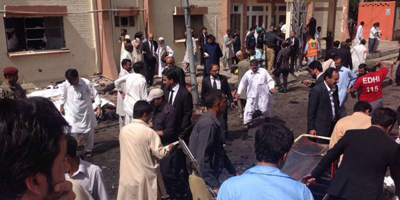 JournalismPakistan.com August 09, 2016


The Committee to Protect Journalists condemned the bomb attack that killed more than 70 people at a hospital in Quetta, among them two cameramen belonging to DawnNews and Aaj Television.

"This deadly attack underlines the extreme dangers journalists face working in Pakistan," said CPJ Asia Program Coordinator Steven Butler. "The deaths of Shehzad Ahmed and Mehmood Khan testify to the bravery and dedication of Pakistan's press corp."

Mehmood Khan, associated with DawnNews, and Aaj TV's Shehzad Ahmed were at the Quetta Civil Hospital reporting on a gathering of mourners grieving the murder of Bilal Kasi, president of the Balochistan Bar Association.

Ahmed died at the scene of the blast while Khan died in hospital afterwards, Dawn reported on its website. A reporter for the media company Dunya News known only by his given name, Faridullah, was also injured in the blast, his employer reported.

Responsibility for both attacks was claimed by the militant group Jamaat-ul-Ahrar, which was added to the U.S. State Department's list of global terrorist groups last week. Militants in Pakistan have repeatedly staged secondary attacks to target mourners following a first attack, or people rushing to the scene. Such secondary attacks put journalists, who often cover the funerals and the aftermath of bombings, at special risk.