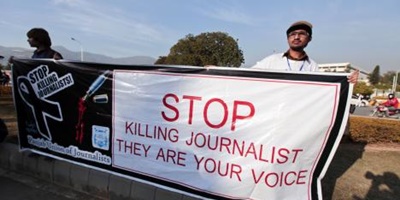 JournalismPakistan.com July 25, 2015
Pakistani journalists are being forced to flee or go into hiding to escape acts of violence and intimidation that usually go unpunished, says international media watchdog Reporters Without Borders. The authorities have not kept their promise to protect media personnel and are sometimes even responsible for these abuses.
The shooting of Balochi journalist Zafarullah Jatak in June is the latest in a series of macabre murders of media personnel that are not being solved. Jatak worked for Intekhab, an Urdu-language newspaper based in Quetta, and had been a journalist for the past six years. He was gunned down in his home in the early hours of 28 June. The police have made eight arrests but have yet to establish the motive.
No progress has been made in the investigation into the murder of journalism professor (and former journalist) Syed Wahidur Rahman, who was gunned down in his car outside Karachi University on 29 April, four days after media and human rights activist Sabeen Mahmud was gunned down in Karachi immediately after organizing a discussion about the violence in Balochistan. Mahmud's murder has also gone unpunished.
"The Pakistani authorities must end the impunity for the only too frequent physical attacks on journalists," said Benjamin Ismaïl, the head of the Reporters Without Borders Asia-Pacific desk.
"We urge them to carry out proper investigations and to bring those responsible for crimes of violence against journalists to justice. The impunity enjoyed by the perpetrators of these abuses just encourages them to continue violating human rights and freedom of information."
The fact that crimes of violence against journalists are rarely solved and punished just reinforces a climate dominated by death threats and physical attacks.
There has also been a marked increase since 2014 in media freedom violations by government officials and various political factions. This disturbing trend constitutes a major impediment to attempts to combat impunity and sustains a climate that does not encourage media freedom.
Read the full story here