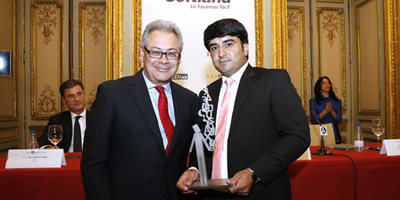 JournalismPakistan.com November 18, 2015


ISLAMABAD: The IE Business School of Spain recently awarded Pakistani freelance journalist Haroon Janjua the prize for this year's best work on Latin America's economy in Asia.

His article "Trans pacific partnership trade agreement hopes and hiccups" published in Pique was declared the winning piece. The prestigious business school commended Janjua's article for its accuracy, quality, diversity, breadth and depth. At the ceremony held in Madrid, Germán Ríos a renowned economist and Corporate Director Strategic Affairs at CAF-Development Bank of Latin America while presenting the award to Haroon Janjua said: "In Asian region the work on Latin America's economy is very few and far between. Beside touching the Latin American economy the TPP article of Mr. Janjua has also connected Asia and the Pacific, Latin America and the US, which is difficult to analyze simultaneously."

Sponsored by CAF Development Bank of Latin America, the overriding aim of the Prize for Economic Journalism in Asia is to increase the flow of economic information between Asia and the Latin America region in order to forge closer economic links and interests.

More than 200 articles from 60 different media organizations in Asia were submitted and the winners were chosen for their depiction of how global trends are impacting the spending power of Asia.]

Other awards this year went to Dibeyendu Ganguly of The Economic Times from India (Best Journalistic Work on Asia), and Japan‐based journal Nikkei Asian Review for Best Regional Media for the coverage of economic news.