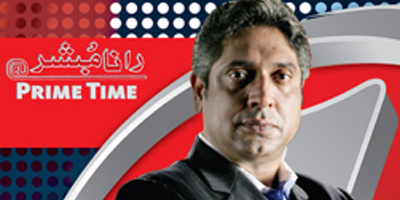 JournalismPakistan.com November 20, 2012
KARACHI: Talk show host Rana Mubashir Monday said he had nothing to do with recent programs aired by NewsOne and ARY Television channels that upset the minority Shi'a community.
Appearing in 'Prime Time with Rana Mubashir' on NewsOne, he said he was being threatened by people who may not even have seen the programs on the two channels. "I was neither a guest nor the host and I did not comment on any religious sect," he said.
Mubashir received hundreds of threatening phone calls and text messages after Dr Khadim Hussain Dhilon made remarks on a NewsOne show last Saturday as did Mulana Muhammad Ahmed Ludhanvi in Mubashar Luqman's program on ARY which infuriated Shi'as.
The floodgate of phone calls and text messages were also sparked off by tweets calling for condemning Rana Mubashir. Insiders at NewsOne say many people often tend to confuse him with Mubashar Luqman.
Rana Mubashir, is the Director News at NewsOne and has served the organization for several years.
On his show Monday Allama Masudi, representing the Shi'a sect praised him for his past efforts to unite the Shi'a and Sunni sects.