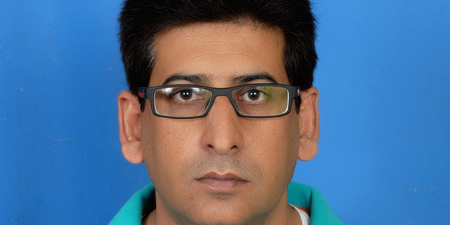 JournalismPakistan.com October 27, 2016


ISLAMABAD - The prestigious National Defence University (NDU) Thursday cleared senior journalist Sajjad Malik's PhD thesis on the role of media in peace process between Pakistan and India, for award of degree.
The scholar crossed the last hurdle successfully defending his dissertation before an array of scholars, professors and policy experts during the Public Defence organized by the NDU.
Malik studied the impact of media on relations of the two countries during 2000-2010. He used the technique of content analysis by scanning hundreds of news of selected papers, and also conducted elite interviews for qualitative analysis.
The dissertation investigates the role of media by evaluating coverage in both countries around five major events: Agra Summit, Indian Parliament Attack, Military Standoff of 2002, Composite Dialogue and Mumbai Attacks.
He carried out a detailed study of over 1,500 stories of elected Pakistani and Indian newspapers under strict methodology of categorizing them as positive or negative for relationship of the two countries.
The findings show that majority 62 percent coverage was detrimental to peace between the two nations as the news articles highlighted hostility.
The results also show that media through partisan coverage of relations between Pakistan and India creates hurdles in the way of peace.
The survey of media contents in both states depicts that most of the material published or aired comes through official sources, which may not give the real picture of the relations.
The key conclusion is that media in Pakistan and India, instead of playing the role of an independent watchdog, follows the official narrative of relations, which is often jingoistic.
The negativity is so dominant that occasional saner voices in media, highlighting the importance of peaceful relations, fail to register any meaningful impact.
Dr. Sajjad Malik, also an academic, and foreign affairs expert, was enrolled in the Peace and Conflict Studies (PCS) Department of the university in 2011. The research was supervised by eminent scholar Prof. Dr. Pervaiz Iqbal Cheema, who is a leading expert on South Asia.
Earlier, as per High Education Commission rules, foreign experts from Britain and Australia approved the dissertation and recommended it for the award of PhD degree.