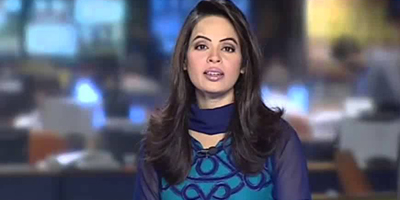 JournalismPakistan.com April 08, 2015
ISLAMABAD: Najia Ashar, a well-known broadcast journalist, says that one should acknowledge his/her mistakes, learn from them and move forward to become a successful person.
She is currently on a JSK Fellowship in the United States where she is trying to develop a mechanism for training of journalists, especially the female, to protect them through technology. "Last spring, I was awarded the prestigious JSK Fellowship, in part on the basis of my idea to explore ways to protect journalists in Pakistan using technology," she wrote on the JSK website.
She said that during her fellowship she got tremendous opportunities to interact with other fellows, students and experts and it helped her formulate a training model for Pakistani journalists.
"All these activities, feedback, suggestions and ideas opened a whole new world to me and helped me to pursue my challenge in a more effective way," she said.
Regarding her experience she said: "Now, I know I will be disappointed at some points in the future, and that I won't stop making mistakes. But this time I will shout "Ta Dah," not awkwardly but with more energy and enthusiasm. I've learned that our failures are a natural way of guiding us to what really works and helping us find the path to success."