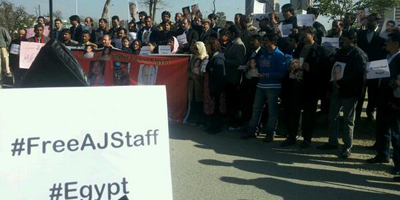 JournalismPakistan.com January 07, 2014
YANGON: Dozens of journalists staged a rare demonstration Tuesday morning in Myanmar's biggest city to protest a jail term given to a reporter who was working on a story about corruption.
Wearing black T-shirts with slogans saying, "We don't want threat on Press Freedom," and carrying banners that read, "Right to Information is life of democracy," nearly 60 reporters marched down a busy downtown Yangon street decrying the three-month prison sentence given to Ma Khine from the Daily Eleven newspaper.
She was convicted by a court in eastern Kayah state last month of trespassing, using abusive language and defamation.
Journalists have gained new freedoms under the reformist government of President Thein Sein, who since taking office in 2011 has abolished most censorship and allowed the publication of privately owned daily newspapers for the first time in almost five decades.
Previously, reporters here worked under some of the tightest restrictions in the world, subject to routine state surveillance, phone taps and censorship for all publications.
Still, even under recent reforms, some publications have been sued for defamation, including by government agencies. Ma Khine is the first journalist under Thein Sein's government to be given a prison sentence.
Ma Khine was sued by a lawyer after she visited her house for an interview for a story about corruption. The lawyer was annoyed by her questioning and asked her to leave and later filed a lawsuit, according to Wai Phyo, chief editor of the Daily Eleven.
"The judge could have imposed a fine but deliberately gave the prison sentence not only to threaten the reporter but to threaten press freedom," he said.
Myint Kyaw, the general secretary of Myanmar Journalist Network, helped organize the protest march "because we do not want the imprisonment of a journalist to become a precedent."
Local and international media and watchdog organizations such as the World Association of Newspapers, Committee to Protest Journalists and Reporters Without Borders issued statements strongly condemning the prison sentence. - AP