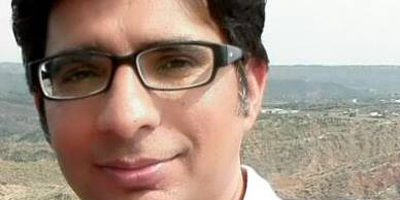 JournalismPakistan.com April 19, 2016


ISLAMABAD - Pakistani journalist Aoun Sahi is part of the team of the Los Angeles Times that won a Pulitzer Award for its coverage of December 2, 2015 San Bernardino attack that claimed 14 lives and injured 24 people.
The team won the 2016 breaking news prize for its work chronicling the chaotic, fast-breaking events of December 2 and their aftermath. A Saudi Arabia national named Farook and his Pakistani wife Tashfeen Malik were the attackers – and both were killed at the scene by the local administration.
The award announced for the panel of the reporters from America and overseas including Aoun Sahi from Pakistan.
In announcing the award Monday, the Pulitzer board cited The Times "for exceptional reporting, including both local and global perspectives, on the shooting in San Bernardino and the terror investigation that followed."
Sahi, the Bureau Chief at Channel 24 in Islamabad and Special Correspondent of LA Times, reported on Tashfeen Malik's radicalization process and related information from Pakistan – in Los Angeles Times for its front page stories on the global perspectives of the attack.
The Times produced three days of special front pages for the coverage, and in the days that followed, reporters continued chasing the story from San Bernardino, Washington, Saudi Arabia and Pakistan, producing detailed accounts of the shooters' backgrounds.
Sahi after several years of experience in Pakistan (The News), also started contributing stories for the Western media in 2007. He had been a regular contributor for the Washington Post, Los Angeles Times, Wall Street Journal, Sunday Times, The Australian and Telegraph from 2007 to 2010, besides working as a stringer for AFP from 2009-10.
From 2008-11, he worked as an associate producer and head of research team for an American film company that produced a documentary, "Without Shepherds".
He was a Daniel Pearl/Alfred Friendly Press Partners fellow in 2010 and later became a special correspondent for Times UK and Los Angeles Times. As a researcher and media trainer, Sahi has won International Labour Organization's successive journalism awards in 2014 and 2015.
Related post from JournalismPakistan.com Archives:
Aoun Sahi joins Channel 24 as Islamabad Bureau Chief