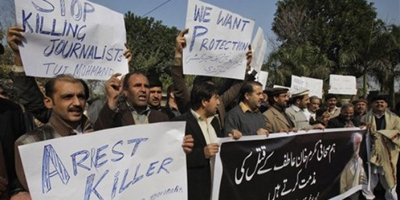 JournalismPakistan.com March 19, 2014
ISLAMABAD: Representatives of the Committee to Protect Journalists called the conviction of six defendants accused of killing a Pakistani journalist a significant step toward ensuring reporters' safety, but said Wednesday that more needed to be done in one of the world's most dangerous countries for the press.
A delegation from the New York-based organization traveled to Pakistan to draw attention to the dangers journalists in the country face and met with Prime Minister Nawaz Sharif to discuss ways the government could work to protect the media.
On March 3, a court convicted six men of killing a television reporter, a rare case of someone being held accountable for a journalist's slaying. Last year, Pakistan ranked eighth on the organization's "impunity index," which ranks countries according to incidents where journalists are killed and their attackers are not prosecuted.
Joel Simon, the committee's executive director, said the last conviction for a journalist killing in Pakistan was in connection with the 2002 kidnapping and slaying of Wall Street Journal correspondent Daniel Pearl. He called the March conviction in the death of Wali Babar Khan, who was working for Geo TV in Karachi, very significant.
"We want to see more convictions. We have very concrete suggestions on how those could be achieved," he said.
Simon said Sharif said he would take specific steps to bolster prosecutions such as protecting witnesses or changing trial venues.
Kati Marton, a member of the watchdog's board, said the meeting with Sharif was "very productive" and that he seemed committed to improving the climate for journalists.
The prime minister said in a statement that he is creating a commission of government officials, media leaders and public figures to propose ways to protect journalists in the field and to monitor the prosecution of crimes against journalists.
The group also discussed with the prime minister the expulsion last year of New York Times journalist Declan Walsh and the slow process journalists face to get visas to come to Pakistan, Marton said. - AP