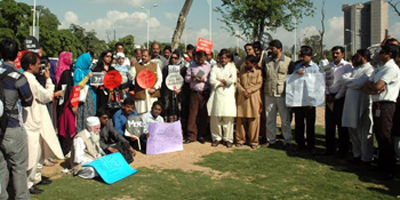 JournalismPakistan.com April 07, 2014
ISLAMABAD: Journalists based in Islamabad and Rawalpindi Monday protested death threats to senior journalist Imtiaz Alam and condemned last week's shooting of two AP journalists in Afghanistan.
The protest was led by Afzal Butt, President Pakistan Federal Union of Journalists (PFUJ) and leaders representing the National Press Club and Rawalpindi-Islamabad Union of Journalists. The protesters who gathered outside the National Press Club held placards and chanted slogans. The union leaders lamented lack of support from the government in protecting journalists.
They pointed out the increase in violence against the media showed the government was doing nothing to protect them.
On Sunday (April 6) a hand grenade was tossed into the house of Jamshed Baghwan, the Peshawar bureau chief of Express News Television while On March 28, Raza Rumi, an analyst and anchor with the same channel was attacked in Lahore. Although he escaped only with minor injuries, his driver was unfortunately killed and a guard injured.
On the other hand Imtiaz Alam, Secretary General of the South Asian Free Media Association (SAFMA) who is also associated with Express News Television has received death threats.
Those who led the protest strongly condemned such threats and called for unity among the media houses in these dangerous times.
The journalists termed the shooting of two AP staffers in Afghanistan's Khost province as a cowardly act and called for an end to such violence.
The two were shot by an Afghan police officer who approached their car in an election convoy and opened fire on them in the back seat. German photographer Anja Niedringhaus died instantly while Canadian reporter Kathy Gannon was injured.
The photographer who died was the second Western journalist killed during the Afghanistan election campaign after Swedish journalist Nils Horner was shot dead in Kabul on March 11.
Sardar Ahmad, AFP's senior Afghan reporter, was among nine people shot dead including his wife and two of his three children, on March 20 when gunmen attacked Kabul's high-security Serena hotel.