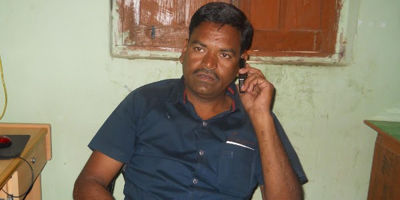 JournalismPakistan.com October 01, 2015


The International Federation of Journalists (IFJ) and its affiliate the National Union of Journalists (India) have strongly condemned the killing of freelance journalist Ajay Vidrohi in Sitamarhi in Bihar state in northern India on Tuesday, September 29.
The IFJ and the NUJ(I) are demanding immediate investigation to arrest the murderers.

According to reports, Vidrohi was shot dead by two unidentified criminals on the road as he returned from the police station after filing a case against his neighbors with whom he had a dispute. His family took him to hospital where he was pronounced dead. Vidrohi, 55, had worked in various newspapers before turning a freelance writer. The murder happened ahead of elections in Bihar state which begin on October 12.

Meanwhile, the IFJ and NUJ(I) also condemned the attack by supporters of religious leader, Narain Sai, on the offices of the Hindi daily, Amar Ujala in Agra in Uttar Pradesh on September 29. Around a dozen supporters of Narain Sai forcefully entered the offices, damaged furniture and attacked journalists over a report published on September 20. When the employees retaliated, all of the attackers except two ran away. Two attackers were handed over to the police.

Ras Bihari, the NUJ(I) president, said: "The killing of Ajay Vidrohi and the attack on Amar Ujala office underline the immediate need of enacting an act for the protection of journalists. We demand immediate arrest of the culprits and also compensation to the family of the slain journalist."


The IFJ said: "The IFJ strongly condemn the murder of freelance journalist Ajay Vidrohi in Bihar, India ahead of the election; and demand immediate action to arrest the culprit. The IFJ urges the Indian government to ensure security for journalists to improve overall media situation."

The press freedom and the safety of journalists and media workers in India have come under attack with five journalists killed so far this year. The IFJ and the NUJ(I) are dismayed by the decline and have continually been petitioning the government for action through the development of the journalist protection act.