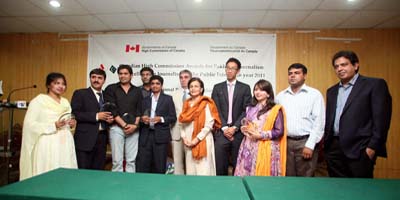 JournalismPakistan.com May 17, 2012
ISLAMABAD: The Canadian High Commissioner Ross Hynes Thursday said Pakistani journalists were serving their country on the front lines and lighting up dark places despite intimidation and threats.

"Today, we want to express our support for the Pakistani media community by celebrating journalism that focuses attention on the public interest – the issues that matter to Pakistanis."

He was speaking at the 'Canadian High Commissioner's Awards for Pakistani Journalism in the Public Interest.'

Hynes also announced that awards for Pakistani Journalism in the Public Interest would be given away on an annual basis. Submissions for next year's awards will be invited in early 2013.

Later, he presented the following awards to the winners:

Awards for print media journalists: Mubarak Zeb Khan of Dawn was presented the award for his story investigating the extent of tax fraud and corruption.

Zahid Gishkori of The Express Tribune, a publishing partner of International Herald Tribune received the award for his report on the Airblue plane crash investigation.

Awards for Electronic Media Journalists: Masood Raza of Geo TV received the award for his reporting on the prevalence of the narcotic gutka and the lack of enforcement on its ban.

Uneeba Waqar, also from Geo got the award for her reports on the heroin market and the energy crisis.


Zakia Manzoor of Samaa TV bagged the award for highlighting the social obstacles a woman faces in obtaining divorce.

The submissions were judged on the basis of professionalism and impact with regard to how the reporting serves public interest by advancing public policy discussion and strengthening government accountability to the public.

The criteria are inspired by the prestigious Michener Awards for meritorious public service journalism in Canada.

Eminent Pakistani journalists Azhar Abbas, Mariana Babar, Moeed Pirzada, Murtaza Solangi and Najam Sethi and Canadian journalist, a resident in Pakistan, Kathy Gannon designed this award and reviewed the submissions with the support of the Canadian High Commission.