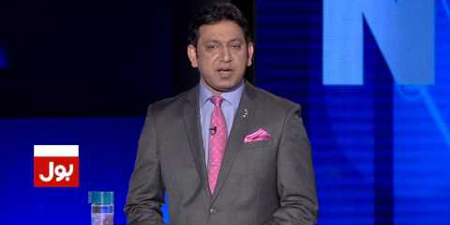 JournalismPakistan.com February 11, 2017


ISLAMABAD – BOL News Friday claimed 30 FIRs had been registered across the country against Geo TV, Jang Group and PEMRA and called on the authorities to make arrests.
In its program Pakistan Newsroom, the channel said Geo, Jang Group owners, anchors and PEMRA chairman had been accused in the FIRs of doing negative propaganda against the country, Army and also committing blasphemy.
BOL said all FIRs filed by common citizens were under the Anti-Terrorism Act in which Jang-Geo owners Mir Shakilur Rehman and Mir Ibrahim Rehman, analyst Najam Sethi, anchor Muneeb Farooq and PEMRA chairman Absar Alam have been nominated.
Of the 30 FIRs, five were lodged in Multan, as many in Faisalabad, four in Quetta, and two in Shikarpur. On the other hand one FIR each was registered in Karachi, Islamabad, Jacobabad, Dera Bugti, Sibi, Hub, Gwadar, Turbat, Naushki, Mashkail, Kalat, Taftan, Dalbadin and Sui.
The channel aired footage of protests against Geo-Jang. It said the protesters were calling for a ban on the media group.
However, BOL pointed out the FIRs would be meaningless if no action was taken against the "anti-state elements."
Program host Faysal Aziz Khan (pictured) said talking bad of sensitive state agencies and the Army hurts everyone. He said the FIRs registered under the Anti-Terrorism Act were non-bailable.
Aziz asked how was it possible that when a channel does commentary against national interests PEMRA looks the other way. "It is surprising the regulator tends to act over trivial lapses yet completely ignores big ones."
He minced no words in saying PEMRA was completely favoring Geo.