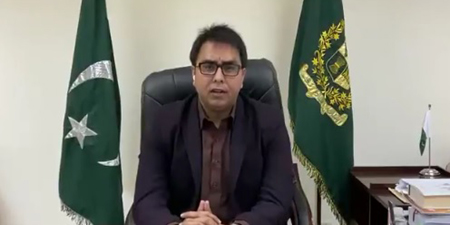 JournalismPakistan.com February 12, 2021


ISLAMABAD—In an offensive tweet, Dr. Shahbaz Gill, Special Assistant to Prime Minister of Pakistan on Political Communication, has termed Gharidah Farooqi an embarrassment to journalism.
He responded to a Gharidah tweet. She had claimed that Chaudhry Salik, son of PMLQ leader Chaudhry Shujaat Hussain sent a tweet to Supreme Court Judge Qazi Faez Isa, saying he did receive development funds from Prime Minister Imran Khan.
Then she adds that the prime minister told the Supreme Court that he did not distribute any funds to legislators for development works. PMLQ is an ally of the ruling Pakistan Tehreek-e-Insaf in the center and in Punjab.
Dr. Gill tweeted that Chaudhry Salik has confirmed that he did not send such a message to Judge Isa. "This proves that as always, you are a liar," Gill said in an Urdu tweet. He went on to add that Gharidah's sources were also complete liars. He then said the tweets were at PML-N leader Maryam Nawaz's behest.
On Thursday, the Supreme Court disposed of the case of distributing public funds among legislators for development work. However, during the proceedings, Judge Qazi Faez Isa presented a WhatsApp message he received from an unknown source allegedly providing documents showing massive amounts recently given for building roads by the Pak-PWD in NA-65 constituency.
Besides disposing of the case, Supreme Court Chief Justice Gulzar Ahmed has also barred Judge Isa from hearing cases involving Prime Minister Khan.