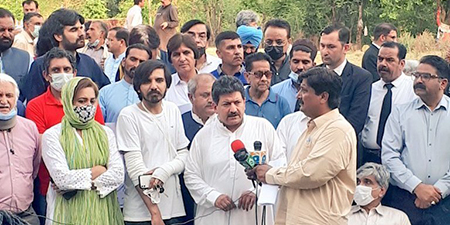 JournalismPakistan.com June 01, 2021


ISLAMABAD—South Asians for Human Rights (SAHR), a regional network of human rights defenders, has condemned the increasing attacks on journalists, including removing prominent journalist Hamid Mir from anchoring his prime time show on Geo News Network.
This is a tumultuous moment for press freedom in Pakistan. Journalists continue to face an onslaught of attacks and arrests with many similar incidents in recent months, says a media release.
Last week, Pakistani journalist and vlogger Asad Ali Toor sustained severe injuries when he was attacked and tortured by unknown assailants at his residence. The following day, journalists organized several protests outside the press clubs in various cities condemning the attack. They demanded that all journalists be allowed to do their job to uncover the truth and that the government should prosecute all perpetrators of crimes against journalists and protect journalists.
During the protest outside National Press Club, Islamabad, Hamid Mir, host of the show Capital Talk on Geo News, spoke boldly against the military establishment. He was responding to Federal Minister Fawad Chaudhry's allegation on the BBC's Hard Talk accusing journalists of fabricating attacks to claim immigration to other countries. Mir condemned this statement and spoke outright, implying the involvement of the Pakistan military in the recent attack on Toor and that it was the military personnel who owned assets abroad and not journalists.
A Twitter trend of #ArrestHamidMir began the following day, and Mir was barred from hosting his popular talk show by Geo News. Pakistan Federal Union of Journalists (PFUJ) slammed Geo News for its decision to ban him.
Through the attacks on journalists and abridging the freedom of speech, the Government of Pakistan and the relevant authorities have made it impossible for journalists to practice their profession. SAHR reiterates that journalists cannot be attacked for doing their jobs.
SAHR noted the government had taken no measures to punish the perpetrators who harm journalists and prevent them from doing their job. The organization called for reinstating Mir and investigating all cases of violence against journalists. — A SAHR media release/Photo: Twitter (@@Shahan_shahh)