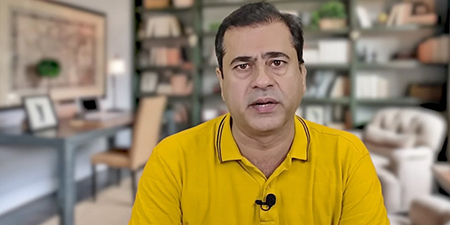 JournalismPakistan.com September 25, 2023


ISLAMABAD—Journalists, politicians, lawyers and human rights activists have expressed relief at the safe return home of Imran Riaz Khan Monday morning.
In its post on X, Sialkot police said: "Journalist/Anchor Mr.Imran Riaz Khan has been safely recovered. He is now with his family."
Analyst Moeed Pirzada thanked the Chief Justice of Lahore High Court for persisting with the case of Imran Riaz. "Congratulations to Imran Riaz, his wife, children & parents and Ali Ashfaq! Thanks are due to Chief Justice Lahore High Court, who kept persisting -despite knowing the reality! We are all glad that sanity prevailed!"
PTI leader Hammad Azhar, in his post on X said that the release of the journalist is the outcome of prayers for him.
Lawyer Khadija Siddiqui termed the release a positive development. But she added: "Latest modus operandi of brazenly silencing voices of dissent seems to have failed miserably! Citizens of Pakistan must not be antagonised by our own state!"
Journalist Wajahat S. Khan spoke to the journalist's family who said he was weak and "not in the best of heath".
Mehr Tarar said for the time being Imran Riaz would not talk publicly. "He won't speak, at least for the time being. What he went through in the last four months, only he knows and his kidnappers and torturers. Only time, love of his family and prayers of his well-wishers will heal him."
Journalist Mazhar Abbas was happy that Imran Riaz is back with his family. "#ImranRiazKhan is back home after almost 140-days. I wish him all the best and fully understand the kind of trauma he and his family would have gone through. Missing or killing of one journalist is a message for other journalists."
Mubasher Zaidi, another journalist, termed Imran's safe return a good news and expressed satisfaction. He added that voice should be raised for the release of another missing journalist Mudassar Narau.