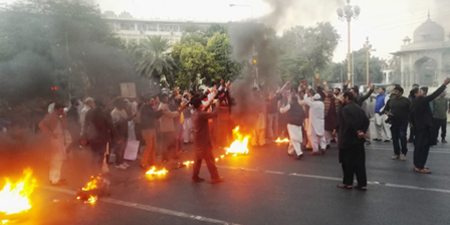 JournalismPakistan.com November 24, 2018


LAHORE – Journalists in Lahore on Friday blocked the busy Mall Road in protest against the large-scale termination of workers by news organizations and pay cuts.
A Joint Action Committee organized the protest in front of the Punjab Assembly where the protesters burnt tyres and chanted slogans against the owners of media houses and the government.
Azam Chaudhry, convener of the Action Committee said the recent statement of Federal Information Minister Fawad Chaudhry had revealed the anti-journalist nexus between the government and the media magnates.
The protesters called for accountability of media owners, saying they too should be probed for possessing assets beyond means.
They demanded the reinstatement of all media workers laid off in recent months, and an end to pay cuts.
The committee members said that it appears the PTI government's 100-day agenda was to render journalists jobless. They said it was shameful of the provincial Information Minister Fayyaz ul Hassan Chauhan not to honor the promises he had made to journalists.
The protesters resolved to speed up their protest campaign and fight until every worker was reinstated. They said they were in a state of war against the government and media owners.
Several members of the action committee made speeches, among them Muhammad Shahbaz Mian, Arshad Ansari, Shahzad Butt, Ziaullah Khan Niazi, Naeem Hanif, Khawaja Naseer, Ijaz Manzoor Khokhar, Rana Muhammad Azeem, and Arshad Yaseen.