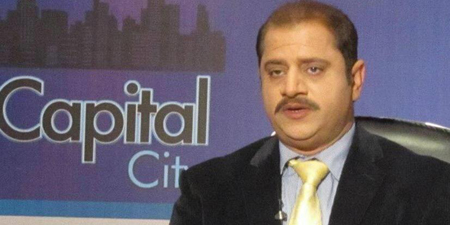 JournalismPakistan.com May 23, 2017


ISLAMABAD - State Minister for Capital Administration and Development (CAD) Dr. Tariq Fazal Chaudhry Tuesday assured workers and laborers the government would accept their genuine demands and hoped many could be met in the forthcoming budget.
He held out this assurance while speaking at a big gathering of workers and laborers organized by the All Pakistan Mazdoor Ittehad Action Committee, outside the National Press Club.
The committee is an alliance of all the workers union of the federal capital, including the Pakistan Federal Union of Journalists (PFUJ).
The gathering was the first show of strength by the workers of Rawalpindi and Islamabad, who have decided to wage a joint struggle for their rights.
It was organized days before the announcement of the national budget by the federal government. The main demands of the Action Committee include fixing of a minimum wage at Rs20000 per month, an end to contract system and out-sourcing of labor and an end to privatization.
Thousands of workers started gathering around 9.00 am to attend the camp to show their commitment to the workers' cause.
Soon afterward the speakers started making speeches. A phone call was received from Finance Minister Ishaq Dar who agreed to meet a representative delegation of workers to discuss their demands.
The delegation which met the minister was led by Secretary-General of All Pakistan Workers Federation Khursheed Ahmad Khan and included PFUJ President Afzal Butt, CDA Employees Union Secretary-General Chaudhry Yaseen, Chairman of Akhbar Farosh Federation, Tikka Khan and representatives of various trade unions.
The minister constituted a two-member committee headed by Dr. Tariq Fazal Chaudhry to hold detailed consultations and meetings with the All Pakistan Mazdoor Ittehad Action Committee.
Secretary General of All Pakistan Workers Confederation Khursheed Ahmad Khan lauded the efforts of PFUJ in bringing various trade unions on one platform for achieving the rights of the workers.
He said that privatization was unacceptable and the government should halt the process of selling state-run enterprises. He said the trade unions have joined hands by shunning their differences and standing above their group differences.
Senior journalist and anchorperson Hamid Mir said journalists had always stood for the cause of the working classes and they would continue to support their struggle in future as well.
PFUJ President Afzal Butt (pictured) said this gathering was the first step towards the achievement of workers' rights. "We have just launched the struggle and we have to go a long way to achieve our rights."