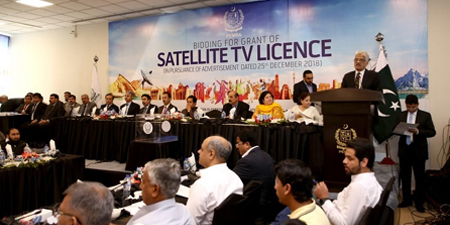 JournalismPakistan.com May 04, 2019


ISLAMABAD – The Pakistan Electronic Media Regulatory Authority (PEMRA) held bidding for award of 58 satellite television licenses on May 2 and 3.
The regulator offered 70 satellite TV licenses in seven categories – eight in news and current affairs; 27 in entertainment, five in sports, two in agriculture, 12 in regional languages, four in health, and 12 in education.
Bidding for news and current affairs, and entertainment and regional languages took place on May 2 while on May 3 licenses were offered in health, sports, education and agriculture categories.
The news and current affairs category brought the highest bid of Rs283.5 million whereas the entertainment category went for Rs50.5 million. The highest bid for regional language channels was for Rs102 million, agriculture for Rs52 million, sports for Rs42.5 million, education for Rs 46 million and health Rs42 million.
The successful bidder will be required to deposit the balance amount of earnest money of their offered bid within 15 working days.
The launch of these TV channels would not only contribute significantly in terms of investment and employment but would also offer a wide variety of entertainment, education, and information to viewers.
PEMRA Chairman Muhammad Saleem Baig headed the bidding committee. – A PEMRA press release