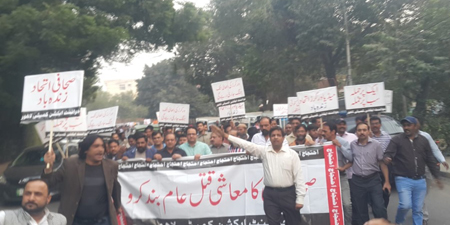 JournalismPakistan.com November 08, 2018


LAHORE – A Joint Action Committee of Journalists on Thursday called on the head of Dunya News to honor his promise of reinstating terminated employees and stop salary cuts.
Hundreds of media workers began their protest from the Lahore Press Club from where they marched towards the Dunya Group offices and staged a sit-in.
The committee's convener Azam Chaudhry said it was a pity that Mian Amir Mehmood, CEO of Dunya News had not kept his promise.
Mian Amir is also the chairman of Pakistan Broadcasters Association.
The protesting journalists had held talks with him late last month. He had agreed to reinstate the laid-off employees, and stop any further layoffs, and not to cut pays of staff drawing up to Rs100000 each month.
Azam Chaudhry said the CEO sought two days to resolve the matter but now several days had passed with no action being taken by him.
Chaudhry pointed out that the media group had terminated more than 100 employees. He warned the owners of news organizations that if journalists' children went hungry, the protesters would continue their protests and make life difficult for them.
Others who made speeches were members of the action committee – Shahbaz Mian, Arshad Ansari, Shahzad Hussain Butt, Naeem Hanif, Rehman Bhuta, Khawaja Naseer and Ijaz Manzoor Khokhar.