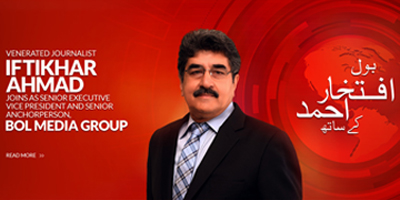 JournalismPakistan.com October 19, 2014
ISLAMABAD: Iftikhar Ahmad of Jawab Deyh fame has joined BOL Group as Executive Vice President and senior anchor, a move being seen as another blow to the tottering Geo Television.
His hiring was termed by BOL as a "momentous victory" and comes on the heels of the group's signing up of Kamran Khan, also from Geo.
BOL News Television is yet to go on air and claims to be the 'imminent No 1 channel. It is still unclear when it will hit the airwaves.
According to bolnetwork.com, Iftikhar Ahmad has pursued the cause of truth and justice with a thoroughness and honesty that is unrivalled in the history of journalism in Pakistan.
"Mr Iftikhar Ahmad is a Shaheen whose addition to BOL will strengthen the flight of BOL," said Shoaib Ahmad Shaikh, the group's Chairman and CEO.
Iftikhar is the third Geo heavyweight to be signed up by BOL after Kamran Khan joined them in late July and Azhar Abbas came in as President and Chief Executive Officer of BOL News TV in August last year.
It is being said that in the days ahead some more big names from Geo may well be heading to BOL, among them Najam Sethi.
Photo courtesy: bolnetwork.com