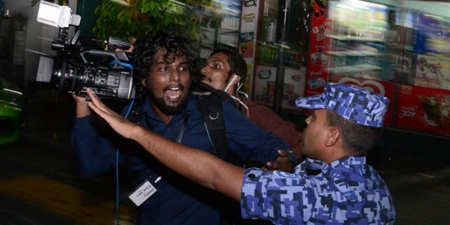 JournalismPakistan.com July 27, 2017


The International Federation of Journalists (IFJ) has condemned the roughing up and arrest of journalists covering an opposition rally in Male, Maldives on July 26.
The IFJ demanded respect to journalists' rights and action against police officials involved.
At least seven journalists – four from Sangu TV and three from Raajje TV – were arrested and a number of others roughed up by the Maldives police on charges of 'obstructing the duties of a law enforcement officer'.
The media reported damage to camera and other equipment while the videos showed that police used excessive and unnecessary force against the journalists reporting the rally organized on the 52nd Independence Day of the Maldives.
The arrested journalists were later released. They were Mohamed Wisam, Murshid Abdul Hakeem and videographer Ahmed Mamdhooh of Raajje TV, and Adam Janah, Ahmed Riffath, Mohamed Shanoon, and Abdullah Yamin of Sangu TV.
Raajje TV in a statement said that its journalists were threatened, yelled at and beaten. The statement said: "If journalists fulfilling their responsibilities is 'obstruction', it shows that the institution is incompetent and incapable of enforcing the law and maintaining a democracy. While the journalists are accused of obstruction, video footage, especially the footage taken by bystanders, prove that this is a blatant lie."
The IFJ said: "The IFJ condemns the Maldives police for roughing up and arresting journalists who were carrying out their professional duty of covering the opposition rally in Male. The act is a clear violation of journalists' rights to cover events; and was carried out to intimidate the journalists and stop them from informing the public. The IFJ urges the Maldives government to order the police to respect journalists' rights; and take action against the police officers involved in the act." – IFJ media release/Image: Sun.MV