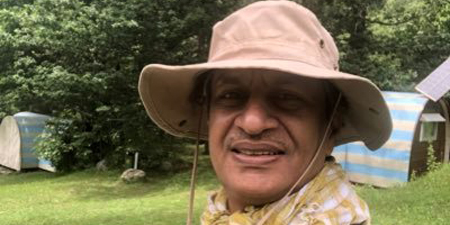 JournalismPakistan.com September 12, 2020 Published 16 days ago


ISLAMABAD–Journalists took to Twitter to condemn the registration of a treason case against journalist Absar Alam by Punjab Police for his anti-government and anti-military tweets.
Hasan Zaidi, a journalist and media consultant, expressed anger with the PTI government for registering the case. "Has this government lost its mind completely? This is pure fascism, nothing else."
Murtaza Solangi, a former director general at Radio Pakistan, expressed support for Alam. In a tweet in Urdu, he said if Absar Alam is a traitor, then everyone is a traitor. "We will not be silenced," he added.
In another tweet, he said: "If @ImranKhanPTI and his patrons think they can silence journalists like #AbsarAlam through intimidation and fake cases, they are seriously mistaken. We shall not be silenced. Since Pakistan has become a big jail, we don't mind going to small jails. #ArrestUSAll"
Ahmad Noorani, formerly of The News, thought that the case had been registered because Alam asked for the accountability of the government.
Mehtab Haider, who works for The News, also expressed support for the former head of Pakistan Media Regulatory Authority (PEMRA). "These are defining moments whether we will stand with dictators or those who are struggling for rule of law. We are proud of you Absar Alam @AbsarAlamHaider."
Pakistan Media Watch maintained that the case is related to tweets of Alam regarding the assets of Lt Gen (retd) Asim Bajwa outside Pakistan. "Sedition case registered against @AbsarAlamHaider in Jhelum for Alam's tweets related to offshore wealth of Asim Bajwa's family and its expose on @FactFocusFF website.."
Columnist Faisal Bari regretted the registration of the treason case. "Ridiculous. Muscle flex. But says a lot about the 'democracy' we live in."
Zarrar Khuhro of DawnNews made fun of the government. "And in other totally normal news an FIR has been filed against Absar Alam in Jhelum, and the charge is sedition :-)"
Matiullah Jan asked the Pakistan Federal Union of Journalists (PFUJ) to demand the withdrawal of the case against Alam.
The PFUJ on Friday condemned the arrest of Karachi-based journalist Bilal Farooqi and the Alam sedition case.
Television presenter Asma Shirazi thought there is no freedom of expression in Pakistan. "First, arrests of the journalist Bilal Farooqi and now sedition case against @AbsarAlamHaider indicate that there is no room of freedom of expression left in Pakistan. Government must act and stop harassment of journalists. #BringBackBilalFarooqi #AbsarAlam."
Human Rights Commission of Pakistan (HRCP) also termed the case an attempt to restrict freedom of expression. "HRCP condemns the filing of a sedition case against renowned journalist and former chairman PEMRA #AbsarAlam. We believe this is yet another attempt by the government to silence any voices of dissent and curb freedom of expression."
Photo: Twitter (@AbsarAlamHaider)