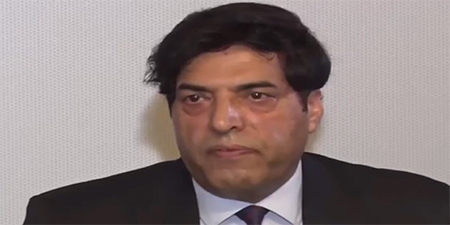 JournalismPakistan.com October 27, 2022


ISLAMABAD—Pakistan's Inter-Services Intelligence (ISI) head made an unexpected appearance in the media for the first time in national history.
He held a joint press conference in Rawalpindi with the Inter-Services Public Relations (ISPR) spokesperson, Lt. Gen. Babar Iftikhar.
Director General ISI, Lt. Gen. Nadeem Anjum (pictured), responded to allegations and criticism of his agency over the murder of senior journalist Arshad Sharif in Kenya.
"Today, I have not come for myself but to defend my institution. False accusations were made against my institution; that's why I have to come here."
He said his policy and duties do not allow him to come out in public. "...but for the sake of the country and the nation, I am speaking today." He emphasized that "sometimes it is very necessary to refute a lie."
It is the first time in Pakistan's recent history that the head of its central intelligence agency, the ISI, has addressed a press conference and shared his views about the current political situation.
Murtuza Ali Shah, a journalist with Geo News, stated: "A big first. DG ISI live on TV to kill off US Regime Change narrative."