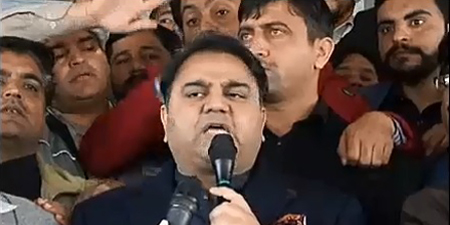 JournalismPakistan.com February 20, 2019


ISLAMABAD – Federal Information Minister Fawad Chaudhry spoke out against the Pakistan Television (PTV) management Wednesday, but PTI leader Naeemul Haque quickly neutralized his comments.
The minister, speaking at a sit-in staged by the PTV Workers Union, said when the organization's managers begin drawing massive salaries problems were bound to occur.
"We all know the problems that PTV faces; the pensioners have nowhere to go when they fall sick, their kids cannot get married, and they have so many other issues."
His speech came days after he wrote a nasty letter to PTV's Managing Director Arshad Khan, holding him responsible for whatever ails the organization.
Khan assumed charge as the managing director only in November last year.
Insiders tell JournalismPakistan.com that the PTV's Board of Directors wrote back an equally harsh letter to the minister.
Meanwhile, Naeemul Haque, Special Assistant to the Prime Minister on Political Affairs in an apparent damage-control, tweeted: "The Prime Minister has full confidence in the Board of PTV, and it's management and believes PTV should be an independent organization like BBC and the government will take all steps necessary toward that end."
In another tweet, Haque said: "All the newcomers in PTI must understand and follow the philosophy of Imran Khan. PTI is a strong ideological movement, and its success has been due to steadfast determination of its leader to pursue justice and fairness. Anyone thinking otherwise has no future in the party.
Earlier, the minister in an obvious reference to Haque had said: "Some unelected people in the Prime Minister House do not know about politics."
The workers union continues to protest at the headquarters demanding a 50 percent increase in house rent allowance, and calling for a reversal of some decisions the management made as part of austerity.