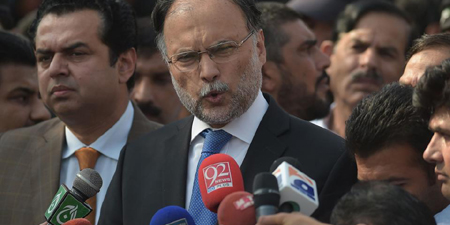 JournalismPakistan.com October 02, 2017


ISLAMABAD - Journalists took to Twitter Monday after Interior Minister Ahsan Iqbal (pictured) vented his anger on Rangers for not allowing the PML-N ministers into the premises of the Accountability Court which summoned former prime minister Nawaz Sharif in corruption cases.
Throughout the day there was confusion as to what led to the ugly episode, as journalists took sides. From the question of who ordered the Rangers' presence in the first place to stories in The News and Jang about banning the ministers from the court premises to the surfacing of the SSP Islamabad letter in which he requested the presence of Rangers.
Talat Hussain, host of Naya Pakistan on Geo TV, rapped the Rangers. "The Ac Court Judge says he dint cal the Rangers. The Int Mnstr, stoppd frm entrng the Court, certnly dint. This is called rule of (martial) law." He also felt that all the "talk of civilian looks such nonsense. Tell us who is running the show."
In a sarcastic tweet in Urdu, Umar Cheema of The News, asked for "shifting the case against Nawaz Sharif to a military court so that nobody could show the proceeding and nobody should ask question because decision has already been made."
However, the anchors from ARY TV took the interior minister to task, alleging the PML-N is planning a repeat of its attack on the Supreme Court in November 1997.
Sami Abraham, host of the program The Reporters, asked in a tweet in Urdu about the minister's presence in the court. "Was he there to harass the judge?"
Veteran journalist Shaheen Sehbai was scathing about the behavior of the minister. "BANANA MINISTER: AIqbal @betterpakistan made himself a monkey by making Banana statmnt b4 Crt. What was he doing there? WILL HE RESIGN? NEVER".
By mid-day, a letter from SSP Islamabad surfaced in which requests the presence of Rangers at the court but without any public dealing. It also led to hashtag #SSP Islamabad.
Senior journalist Hamid Mir tweeted an image of the letter, saying "SSP Islamabad letter to DC Islamabad for Rangers but read it carefully no public dealing by Rangers." But his colleague from the Jang Group, Ahmad Noorani termed the letter fake. "No letter WHATSOEVER to call Rangers for security was ever sent to Rangers by Islamabad Admin. News of "SSP letter to Rangers" is #FakeNews."
However, not surprisingly Noorani changed his tack in the next tweet. "SSP did write to DC (Only DC can summon Rangers or Army for security) but DC rejected SSP proposal. Now security agencies trying #FaceSaving".
There were also demands for the resignation of the interior minister as a hashtag #resigndoahsaniqbal was started.
In the past Iqbal said he would resign if former military ruler Musharraf Pervez was allowed to go outside Pakistan. However, he did not.
Photo: AFP