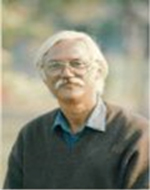 White hair flying with the first touch of air, drooping moustache pure silver with a touch of brown in the middle – brown due to burnt hair because of excessive smoking, Imtiaz Sipra was a phenomenal writer.

Born in Rangoon in 1938, Sipra had a never-ending passion for sports. He was a different character; difficult to understand and hard to come to grips with. His level of thinking was inconceivably high and his expression simply a poetic frenzy which would leave the ardent readers in a trance.

Sipra didn't write for commoners; he wrote for people who adhered to orthodox Edwardian expression and appreciated satire.

His writing was a subject about which most people know very little. It was reputed to be abstruse, dark and obscure - a mysterious combination of psychology, theology, a predictive, mellow-dramatic narration of events.

Sipra was a man of great wisdom. Oddly enough, he was considered of no practical value because of his abrasive nature and his ability to annoy people. However, he was of tremendous value for those who followed cricket passionately.

There were misconceptions about his personality which need to be dispelled. He was an amazingly loving father, a teacher and an honest man who sporadically behaved intangibly under the influence of alcohol. His lust for drinks to an extent of habituation and chain-smoking took the zing out of his life.

Having started to drink and smoke as part of teenage frivolities, Sipra became dependent and that took the gloss off his most charming self. When Sipra was his real self, he was an institution. He could be a philosopher amongst the journalist glitterati and a story-teller amongst colleagues covering cricket matches or other sports events.

Sipra was extravagant and a multi-talented man. He also covered golf, bridge, polo, athletics and boxing.
At the time of his death in July 2001 of cardiac arrest, Sipra was serving as the Sports Editor of The News Lahore.

After the death of his wife in 1999, Sipra had become forlorn, mostly submerged in alcohol. He loved his two daughters and often pulled up his son Adnan, himself a fine journalist.

Sipra's last cricketing stints as a journalist were in West Indies in 200 and England 2001. A damn good writer, he will long be remembered for his typical columns, full of enterprise and satire.
Source: The Fluctuating Fortunes