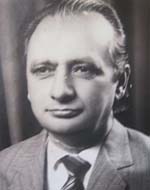 Khalid Akhtar was a senior journalist who started his career in 1973 as a Sub-Editor and Editorial Writer with The New Times.

He worked with The Muslim in Islamabad as its Executive Editor from 1978 to 1998 and later became Editor of Pakistan Observer in 1998 and served the newspaper for three years.

He joined The News as Editor Production and Coordination in April 2001 and worked on this position until his death.

Akhtar was admitted to the Pakistan Institute of Medical Sciences (PIMS) on September 15, 2005 because of cardiac arrest. He was in coma for one week and passed away on September 22.

He was a hard working professional and is remembered by his colleagues as a very friendly and jolly person. His younger colleagues looked up to him for guidance.

Akhtar was born in Kangar, East Punjab in 1935 and migrated to Rawalpindi along with his family after the 1947 partition.
Source: Dawn/The News