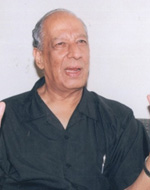 Zakir Hussain Syed, affectionately called Zak, was an internationally renowned sports administrator, broadcaster and journalist. Born in the town of Sialkot on November 1, 1939, Zakir had his initial schooling at Rawalpindi's Denny's High School.

Zak completed school education at the Cadet College, Hasanabdal. So it was no surprise, he developed interest in sports from an early age. Still, after completing his Masters from the Punjab University, he started his career, not in sports but in education.

He began teaching at the Lawrence College, Ghora Gali, also a well-known public school. Zak became the Director General of Federal Directorate of Education and also served as the Deputy Managing Director of the Pakistan Tourism Development Corporation.

England's 'Cricketer International' the world's leading cricket monthly, acquired Zak's services as their Pakistani correspondent for more than 30 years. In the Pakistani press, readers always enjoyed his interesting and informative articles in leading national English and Urdu dailies. In fact, his last piece, on the recent edition of the Sultan Azlan Shah Cup, appeared in a newspaper the day after his demise.

For over 40 years, he compered, commentated and also coordinated sports programs on the Pakistan Television, Radio Pakistan, BBC and Ten Sports. His views were always candid and logical. Hockey fans still remember the emotional but balanced comments on TV/ radio on many occasions when Zak held the mike in the last minutes of the finals won by Pakistan at the World Cups, Olympics, or Asian Games during the old glory days.

A fitness freak, he was a very active badminton player well into his sixties and was the veteran champion of his club. For the last few years, he had taken to a daily walk in the Islamabad's Fatima Jinnah Park. It was there on March 21, 2013, when he expired after a sudden collapse due to cardiac arrest.

In 1976, Zak was instrumental in organizing international tournaments in six major sports in Pakistan in connection with Quaid-i-Azam Muhammad Ali Jinnah's centenary celebrations, culminating in the thrilling 10-nation hockey competition in which all the leading hockey countries took part. During his tenure, Pakistan's medal haul at the Asian Games of 1978 (4 gold, 4 silver and 9 bronze) hasn't been bettered since.

Zakir's excellent administrative skills were also utilized outside Pakistan. He served as the Development Manager, Asian Cricket Council from 2000 to 2004. Then he proceeded to Dubai where he acted as the consultant in the setting up of the Dubai Sports City. A person no less than the chief executive of the ICC requested Zakir for assistance in setting up the first global cricket academy in Dubai.

http://www.hockeywritersclub.com/story/obituary-%E2%80%93-zakir-hussain-syed