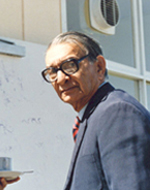 Omar Kureishi was a distinguished Pakistani writer. He worked in advertising, aviation and journalism, writing for many newspapers, including Dawn, The Pakistan Times, Morning News and The Guardian, London.

He was best known for his cricket writings and commentary but was also a keen observer of political and social developments and wrote about them, in his own words, not with fury, but certainly with "exasperation and anger".

He died on Monday, March 14, 2005, at the age of 77 due to a heart disease, leaving behind his widow, a son, Javed, and two grandchildren. He was awarded the Sitara-i-Imtiaz in 2001.

Kureishi had his first encounter with the media and showbiz in the US where he briefly worked with a radio station and also played a small part in a Hollywood movie.

He came to Karachi in the mid-'50s and joined the defunct Pakistan Standard. Later, he became Resident Editor of the Times of Karachi.

He filed dispatches for many newspapers in Pakistan and abroad during his cricket commentating career, but wrote most regularly for Dawn for a period spanning over 25 years.
Source: Wikipedia