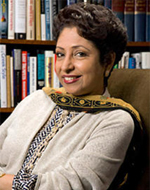 Maleeha Lodhi obtained her Ph.D in Politics from the London School of Economics in 1980, having received her B.Sc (Econ) from the same institution in 1976.

She taught Politics and Sociology at the London School of Economics for five years, 1980-85, before returning home to embark on what was to be a remarkable career in journalism.

She also briefly taught for a year at the Quaid-i-Azam University, Islamabad, in the Department of Public Administration.

Dr Maleeha's journalistic career spanned eight years in which she edited two of Pakistan's major English daily newspapers - The News, which she helped launch, and The Muslim (now defunct).

She became the first woman in all of Asia to be the editor of a daily paper. Her outspoken views and incisive analyses quickly took her to the very top of the profession as an outstanding professional as well as a crusader of democracy.

Dr Maleeha is a Fellow of the Pakistan Institute of Development Economics. In February 1994, she was cited for a top journalistic award by APNS (All Pakistan Newspaper Society) for a feature she had co-authored with a fellow Pakistani newsman.

In December 1994 she was selected (the only one from Pakistan) by Time magazine as one of the hundred global pacesetters or young leaders who the magazine said would help define the next century.