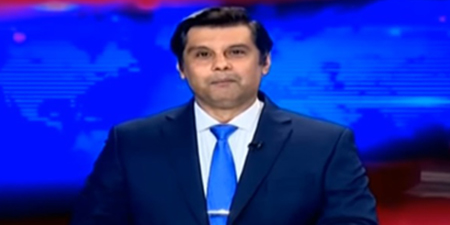 JournalismPakistan.com March 11, 2019


ISLAMABAD – Journalists and officials have greeted ARY News Television presenter Arshad Sharif on his nomination for the President's Award for Pride of Performance.
Perhaps the finest tribute came from veteran editor Shaheen Sehbai who said he was one of the few recipients who would add respect and value to the award.
"My really heartfelt congrats to Arshad, @arsched the most deserving and one of the few recipients who will raise the respect and value of the Award. Others in the past have only devalued it, getting it on personal and political grounds," Sehbai tweeted.
Human Rights Minister Shireen Mazari said she was proud of his achievements. "Congratulations @arsched on the award. You have come a long way from the young man who began his career with me at Pulse! You have stood firm on what you believe in - I may disagree with you on issues but am so proud of your achievements."
Director General of Inter-Services Public Relations (ISPR), Maj. Gen Asif Ghafoor saw it as a deserving award. "Congrats Arshad Sharif @arsched on nomination for 'Pride of Performance' Award in Journalism. Deservingly."
Rauf Klasra, a 92 News TV analyst, pointed out that if anyone deserved this award in journalism, it was Arshad Sharif.
"Congratulations @arsched nominated for "Pride of Performance" award by Govt of Pakistan. If anyone deserves this award in journalism, this is Arshad Sharif who broke countless mega scams and has been fighting like a gladiator against mighty and corrupt elite without any fear."
Khawar Ghuman, a journalist with Dunya News TV, said that Sharif was well ahead of his contemporaries. "I had the honor to work with the great @arsched early 2000 in Dawn newspaper. The way he had carried himself over the years as a journalist against all odds puts him well above his contemporaries. Heartiest congs for the well deserved pride of performance."
Sharif is a senior journalist and hosts the current affairs program Power Play on ARY News. He has Masters degrees in media studies and public administration. He previously worked for Reuters, The News, Dawn, Dunya News, and Aaj TV.
President Arif Alvi will present the award to him, and 126 others on Pakistan Day (March 23) in Islamabad.