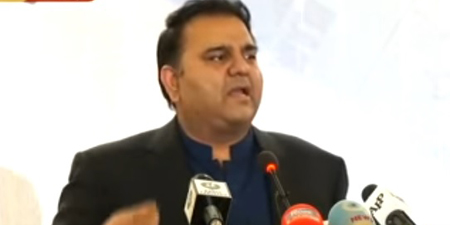 JournalismPakistan.com November 22, 2018


ISLAMABAD – Federal Information Minister Fawad Chaudhry said on Thursday the biggest danger to media owners today was from their own business models.
Speaking at a Conference on National Security, Nation-Building and Mass Media, he said no industry could bank on budgets from the government. "We will not be able to do it because of our economic conditions."
He made it clear that even if the financial situation were better, it was not the government's mandate to give away people's money to private businesses so that they could thrive.
The primary reason for the media owners laying off staff is that the advertising market was artificially inflated. "The government advertising which should not have been more than Rs10 to 12 billion was enhanced to Rs35 to 40 billion. This led to the feasibility of news channels going haywire, and they are now facing problems."
He pointed out that Pakistan in terms of media regulations and the atmosphere was one of the most modern countries in the world. "The media here enjoys such freedom that it is comparable with the developing nations.
He said it had to be considered if the hundreds of mass communication graduates being produced by universities would have jobs to take up in the near future. "Maybe not."
"The shock suffered by media workers who were laid off in recent months is a shock of reality, and it may well be that the job market gets squeezed further."
He suggested that media owners keep in mind their future business models. "For example, the government gives the print media Rs2 to 2-and-a-half billion annually. Would this continue like this in the years ahead? It seems difficult, although it might continue the way it is, or its shape might change."
The minister said the aim of the government to have a single regulatory authority for the print, electronic and social media was to face the challenges of the future.