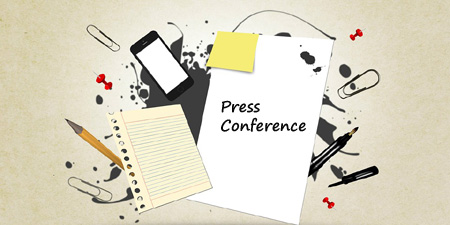 JournalismPakistan.com August 29, 2019 Steve Manuel



Friday Jr. is a new column which will be published every Thursday.
Why is it that any televised press conference these days usually degenerates into an uncouth, uncivilized and rude shouting match?
Looking at the overly aggressive journalists vying to get their questions in before their rivals, one is reminded of the early morning auction at the fish or vegetable market.
Totally despicable and inexcusable.
Whatever happened to professional decorum/ethics?
It has become the norm these days for so-called journalists and reporters to not only interject before the scheduled Q&A session but to shout down, push and even shove their fellow media men and women to get their question in any way they can.
Sometimes the person addressing the press conference tries to pick, designate or request the 'mob' to respect the occasion but it falls on deaf ears.
One can excuse or try to understand such boorish behavior at the marketing press conference of a commercial item or service or when certain sportspersons address the media, but not when the president or prime minister of a country is doing so.
At most of the press conferences that Prime Minister Imran Khan has recently undertaken the behavior of the media has been so predictable that it would be laughable were it not so irritating.
They bombard him with a barrage of questions even before he begins the press conference. This is specifically unacceptable when it is understood that he is making a policy statement or briefing the nation or rally on a significant development.
Sometimes they will interject midway through a sentence, and all hell breaks loose when he concludes his speech.
The prime minister is the elected leader of the country. Have some respect for him, his office, and the electorate that put him there.
But invariably the scene slides rapidly from chaotic to mob-like with multiple questions being fired at him from all directions before he even says he is ready to take questions from the media.
What kind of example does this set? What do people in other countries witnessing such behavior think?
Not surprisingly this behavior was even witnessed at the White House when Prime Minister Khan met with President Donald Trump, and they agreed to answer 'some questions' from the press. Just two questions in and media began to display their boorish behavior while trying to shout each other down and even cross-talked. Calls for restraint and order by the president and prime minister went unheeded.
It was very embarrassing and just went to prove that the media has forgotten the very rules and ethics they have always been known for.
If such press conferences were held in an orderly civilized manner undoubtedly much more ground would be covered, more questions answered as well as understood.
This also provokes me to ask why is it that so many reporters, some even veterans, ask a question that has been answered just moments earlier or ask a question that is unrelated to the issue under address?
Certain colleagues have tried to explain to me that this is usually to register their presence at a press conference and let their networks/publishers know they were there and had done their job. However, the sense behind this continues to elude me, and what does this ultimately say about their caliber and mindset?
I was also told that sometimes, individual journalists try to be different, and the attempt to do so does not always come off the way it was intended. Then why try something so unreliable?
Seriously?
The trend, however, seems to have consolidated itself and I, honestly, don't see any turning back, which is very, very unfortunate.