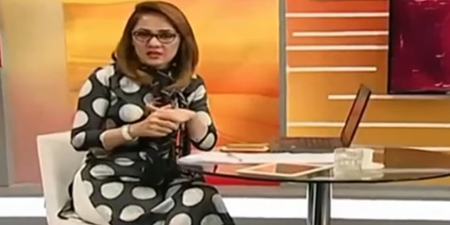 JournalismPakistan.com March 22, 2019


ISLAMABAD – The Coalition for Women in Journalism (CFWIJ) has expressed alarm over a malicious online campaign against television presenter Gharidah Farooqi.
"We condemn the ongoing online harassment against @GFarooqi. Trolls targeting her have gone too far with the hate messaging, inciting physical danger. We urge authorities to take swift action, demand accountability & her safety," the CFWIJ tweeted Friday.
In a video posted on YouTube, the coalition said that online harassment, abuse and trolling of women journalists had become the new 'normal.'
"All of this started with a tweet where I reported only facts," CFWIJ quoted Gharidah as saying. "My tweet was misused and I was called a traitor. A video was made to provoke people against me, including telling people to kill me, or shoot me."
Gharidah said she had reached out to the prime minister, and the Federal Investigation Agency (FIA) while also alerting the information minister. "I have demanded security, but it has not been provided to me."
CFWIJ said: "We are alarmed by the malicious campaign against @GFarooqi. Such content & threats of physical violence should be taken seriously, and her safety must be ensured & culprits punished."
On the other hand, Amnesty International said: "The vicious attacks, death threats and abuse being hurled @GFarooqi underscore the critical need to protect women online. We hope serious action will be taken against those who make women feel unsafe."
The Committee to Protect Journalists Asia also condemned what it said were grotesque attacks on @GFarooqi. "Her security needs to be assured, and the perpetrators brought to justice."
Kiran Nazish, a founding director of CFWIJ said women journalists would never back down. "These trolls as horrible as they are, won't deter our colleague and member Gharidah Farooqi from doing her work.
The online campaign against Gharida began when she tweeted an old picture of the Christchurch mosque attacker Brenton Tarrant visiting Pakistan.