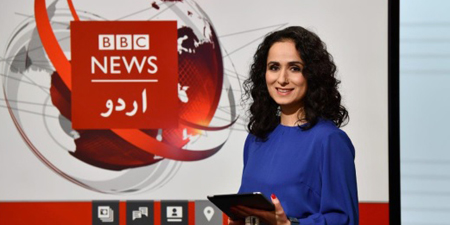 JournalismPakistan.com March 04, 2019


The BBC News Urdu flagship TV news program, Sairbeen, has changed its format and the way it looks and sounds, to better serve its diverse audiences.
With its innovative studio technology, Sairbeen is fully equipped to bring together in-depth journalism and what is happening on social media platforms, offering the viewer a comprehensive glance at the day's key news and topical talking points.
The new-look Sairbeen features touchscreen technology which is pioneering for Pakistan's TV scene. It allows the presenter to move between news stories, analysis, as well as four major social media platforms, highlighting the day's main stories and tapping into conversations on what BBC News Urdu has dubbed as "Social-estan."
The main presenter of Sairbeen, Aliya Nazki, comments: "The touchscreen is a great storytelling tool. It helps us overcome challenges that TV journalism faces at a time when social media platforms increasingly serve as key news sources. We hope that a wider range of viewers – including younger people, and women in particular – will find our fresher, innovative approach to news in this new-look Sairbeen, relatable."
In its new edition, Sairbeen features more live voices and reports. A special weekly slot on Thursdays will bring conversations with newsmakers, thought-leaders, and experts.
BBC News Urdu Editor, Mehvish Hussain, adds: "The refreshed Sairbeen will further reinforce the BBC's TV offer in Urdu. Supported by our news teams which work around the clock to keep our audience abreast of regional and global developments and conversations, the new-look Sairbeen makes our content even more relevant and engaging, thus helping our viewers to make more of the world around us."
Sairbeen is broadcast live from London, at 19.00 PST (14.00 GMT) Monday to Friday, by the Pakistani TV channel, AAJ News.
Shahab Zuberi, Group COO of AAJ TV says: "We value the association with BBC News Urdu. For over five years, the broadcasting of Sairbeen has delivered objective and independent news to our audience in Pakistan and beyond. We are pleased to see the programme refreshed, new elements added, and we are confident it will receive good reception by AAJ TV and Sairbeen loyal audience base."
Sairbeen is also streamed on the BBC News Urdu website bbc.com/urdu and is available on demand on the BBC News Urdu YouTube channel and Facebook page. – A BBC media release