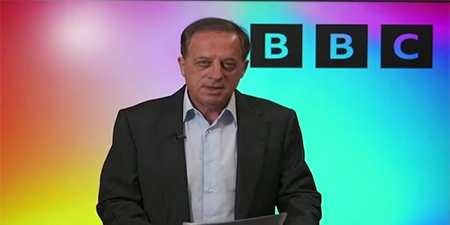 JournalismPakistan.com April 28, 2023


LONDON—Richard Sharp, the chairman of the BBC, has resigned from his post before the release of an independent report that found he had breached rules regarding a loan made to then-Prime Minister Boris Johnson.
The report, published on Friday by Britain's public appointments watchdog, revealed that Sharp had failed to disclose potential conflicts of interest during his interview for the role. However, Sharp maintains that the breach was unintentional.
The public appointments watchdog had been investigating the process by which Sharp was chosen to head the broadcaster by the government in 2021. While the report found that he had breached the government's code for public appointments by failing to disclose a potential conflict of interest, it also stated that this breach did not necessarily invalidate his appointment.
Nonetheless, Sharp stated that remaining in his post until the end of his four-year term would distract from the BBC's "good work." Therefore, he has decided to resign and has sent a letter of resignation to the Secretary of State and the board.
Sharp confirmed that the report found no evidence that he played a part in facilitating, arranging, or financing a loan to Mr. Johnson, and that his breach was merely an oversight for which he apologized. With Sharp's departure, attention has shifted to Prime Minister Rishi Sunak, who is responsible for appointing his successor.
The UK's culture secretary, Lucy Frazer, wrote to Sharp to express her appreciation for his commitment to the broadcaster. In contrast, Shadow Culture Secretary Lucy Powell criticized the prime minister for not firing Sharp earlier.
Sharp will remain in his position until the end of June at the request of the broadcaster, allowing the government time to find a replacement. Sports presenter Gary Lineker, who had criticized Sharp in the past, called for an end to political involvement in the selection of the BBC's chairman.