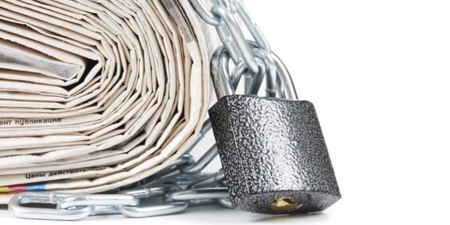 JournalismPakistan.com May 18, 2018


KARACHI - The All Pakistan Newspapers Society (APNS) has expressed apprehensions over some "real threats to press freedoms in the ongoing transition to the 2018 general elections."
It said that of particular concern is the dangerously fluid position in which press organizations find themselves, largely due to the intervention of forces external to newspapers themselves.
In a media release, the APNS said it vows to resist all such attempts to create disunity and confusion in the free press and disparages attempts to exacerbate such influences.
The year "2018 is a precarious year for the functioning of Article 19 of the Constitution, which ensures freedom of the press. In this contentious atmosphere, certain press bodies are attempting to encroach on APNS's sphere of decision making."
The release said the press bodies have specific functions allocated to them. The sphere of influence of the APNS is based on its ability to represent the interest of 379 newspapers and 86 periodicals. The APNS sphere of decision-making is defined by matters about the freedom of press and freedom of expression; to commercial matters about newspaper advertising and recoveries of dues; to newspaper circulations and issues about distribution; and to the general wellbeing and free functioning of newspaper organizations.
Professional editorial concerns of newspaper editors are represented in the Council of Pakistan Newspaper Editors (CPNE); the interests of electronic media organizations are represented by the Pakistan Broadcasters Association (PBA); the interests of journalists by the PFUJ; and that of newspaper employees, in general, by APNEC.
"The APNS works with all these bodies to preserve the collective interests of the press. But it insists that APNS alone represents the views of its membership in commercial matters such as advertising and circulation, which constitute an exclusive domain for the interest of its membership.
"The APNS will resist any attempt by any other newspaper body or organizations, to interfere in their functions and will reserve its options to take any suitable action. The APNS also disparages slanderous pamphleteering and letters which falsely accuse its member publications of illusory acts. In this respect, an Ethics Committee has been constituted to investigate such allegations and take suitable punitive actions against those found responsible for such behavior.
Photo courtesy: kalabashmedia.com