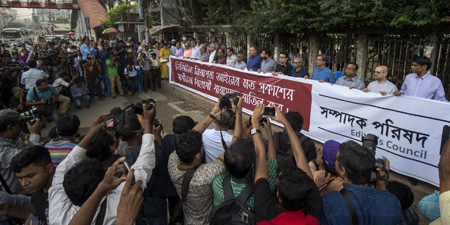 JournalismPakistan.com May 23, 2019


In the past week, three activists were arrested in Bangladesh under the country's internet and digital security laws. The International Federation of Journalists strongly criticized the arrests and urged the authorities to show respect and protect freedom of speech as well as freedom of expression.
According to AFP, the three activists who have been arrested were prominent poet Henry Sawpon, lawyer, indigenous rights activist Imtiaz Mahmood and human rights activist Abdul Kaium. Kaium also edits an online news portal in his hometown northern city of
Mymensingh. Sawpon and Mahmood were released on bail Thursday. Kaium remains in detention on charges of extortion and defamation under the Digital Security Act 2018.
These were the first major arrests under Prime Minister Sheikh Hasina's new term of government, following her re-election in January. The Hasina government has been in power since 2009. Her government has been criticized over the use of the internet and digital security laws to silence her opponents and limit the freedom for civil society. Hasina has defended the law and said: "If there is no criminal mind, there is no reason to worry."
The IFJ said: "We strongly criticize the arrests of three activists under the internet laws. We urge the authorities to guarantee the freedom of speech and freedom of expression. In any democratic system, both freedom of the speech as well as freedom of expression are the keystones. Activists and also citizens should not be arrested simply because they express their opinions." – IFJ media release