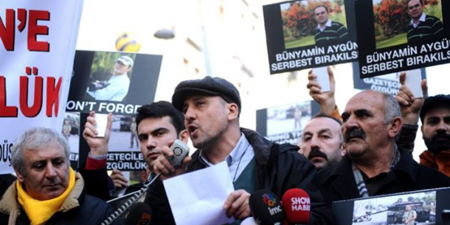 JournalismPakistan.com December 31, 2016


ISTANBUL - Turkish authorities Thursday detained a prize-winning journalist over a succession of tweets and articles for an opposition daily, state media said, as alarm grows over press freedom in the country.
Ahmet Sik (pictured center) was detained on accusations of making "terror propaganda" and denigrating the Turkish Republic, the judicial authorities and police, according to the state-run Anadolu news agency.
It said he had been detained over tweets about the outlawed Kurdistan Workers Party (PKK), as well as articles for the Cumhuriyet opposition daily that criticised the Turkish secret services.
The author of several books, Sik is one of the best-known journalists in the country and had already endured a lengthy spell in jail from 2011-2012.
He has won numerous awards, including the UNESCO/Guillermo Cano World Press Freedom Prize in 2014.
Sik's books include notably one of the few full-scale investigations into the group of Fethullah Gulen, the US-based cleric who Ankara blames for the July 15 failed coup against President Recep Tayyip Erdogan.
The book, called "The Imam's Army" and published in 2011, examines how Gulen supporters infiltrated the Turkish bureaucracy and built up an alliance with the ruling party that has now collapsed.
"I am being detained. I am being taken to prosecutors because of a tweet," he wrote in a final tweet Thursday morning.
Sik had previously been imprisoned for 375 days during the investigation into the so-called Ergenekon alleged coup plot against the government.
That case was strongly supported by Gulen. But the convictions were quashed and suspects released amid accusations Gulen had perverted the process.
Activists worry of a drastically worsening climate for journalists in Turkey, in particular amid the state of emergency imposed in the wake of the coup.
According to the P24 Platform for Independent Journalism, 118 journalists have been arrested in the state of emergency, 80 of them within the coup probe. - AFP