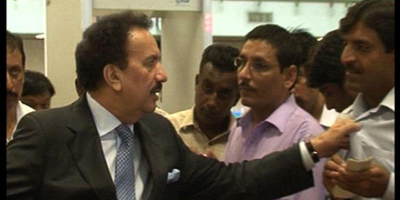 JournalismPakistan.com July 12, 2012
KARACHI: True, journalists can get under one's skin with consummate ease, but is it becoming of an advisor to lose his cool and grab an individual by his collar if he asks a question or two, something his profession requires him to do?

That's exactly what Advisor to the Prime Minister on Interior Affairs, Rehman did on his arrival at Karachi Airport on July 10, when he suddenly lurched forward and grabbed Waqt TV reporter Qazi Asif by the collar.

Photographs of the incident are already doing the round on the social media and the condemnation and remarks as a result of it range from criticism and disgust to the worst kind of abuse.

So what exactly triggered his ire?

Talking to JournalismPakistan.com, Qazi Asif explained how it happened. "As the advisor approached the podium to address the media, I asked him: "Don't you think you are a failed minister, sitting on the same post for the past four years while killings in Karachi have continued?"

According to Qazi the adviser was at first taken aback by the bold question and then angered. Rehman Malik replied caustically, "That was an unexpected shell you fired at me."

"After that I asked him two more questions. He was not happy with either of them," Qazi says. "More than 15 TV channels were covering him live. It was not possible for him to express his anger at me openly. But still he managed to find a way to do so 'technically'.

"While giving an example, he suddenly grabbed my collar. I was busy with live coverage for my channel, my prime duty. But I remained calm and did not struggle. Eventually he let go," says Qazi.

However, demonstrating an example or not, the gathered media lost no time to record the advisor's unbecoming act. Within the hour footage and photos of the event were splashed across the social media.

After he finished with questions from the media, "Rehman Malik almost ran from the place in his haste to get away," says Qazi, who regrets he did not get the opportunity to reply to the advisor the way he would have liked to.

"My only question is, if Rehman Malik wanted to give an example of how he felt when reporters suddenly asked him questions why did he not grab his own collar… why my collar?," asked Qazi.