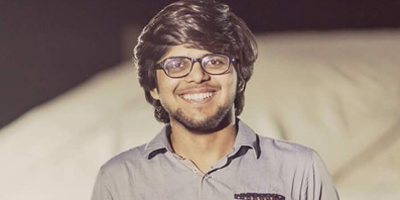 JournalismPakistan.com September 09, 2016


ISLAMABAD - Pakistani journalist Umer Ali (pictured) has won the Local Reporter category in this year's Kurt Schork Memorial Awards in International Journalism.
He will receive a cash prize of US $5000 to be presented at an awards ceremony at the Thomson Reuters auditorium in London on October 27.
The Rawalpindi-based journalist is to be honored for elegant and concise prose that did not shy away from unpopular issues, officials at the Kurt Schork Memorial Fund said.
"I am truly humbled to have won such a prestigious award. I'm thankful to the jury for considering my stories, which highlight the unfair blasphemy laws and mistreatment of minorities, to be worthy of winning," Ali told JournalismPakistan.com. "By using this win as a motivation, I want to encourage youngsters like me to take journalism as a profession seriously."
The judges said: "Tackling sensitive issues such as blasphemy law and ethnic tensions in a country where journalism is a dangerous occupation" made his writing exceptional. His winning stories were published by Dawn and Pakistan Today.
Iona Craig, an Irish journalist based in London, won the Freelance Category award for her undercover reporting of Yemen's civil war for Al Jazeera America and The Intercept.
This year, there were 93 journalists from 36 countries who submitted 279 published stories.
The other finalists this year were:
Freelance category– James Harkin (Ireland), Antony Lowenstein (Australia), Jeong May (Canada), Sara Williams (UK/Canada), Sophie McBain (UK), Eric Reidy (USA) and Philip Obaji (Nigeria).
Local Reporter category – 'Fisayo Soyombo (Nigeria), Aylaa Abo Shahba (Egypt), Chitrangada Choudhury (India), Montanrayo Joel (Nigeria), Olatunji Ololade (Nigeria), Ray Mwareya (Zimbabwe) and Brian Ligomeka (Malawi).